I recently got it in my head to catalog every single film/show/polaroid in which Danish actor Mads Mikkelsen is in bondage. The result was an epic, wild and not entirely tidy Twitter thread. However, this important scholarly research clearly needed to be preserved for the benefit of future perverts. You know, for science. So here it is in its magnificent (and slightly reorganized) entirety.
First, the good stuff:
HANNIBAL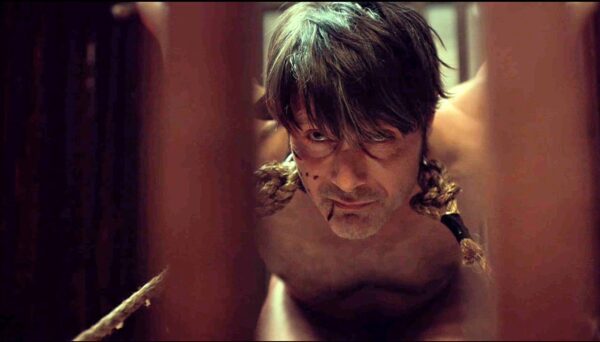 This is where you'll get the most bang for your bondage buck. There are multiple scenes in multiple positions. All good.
2. POLAR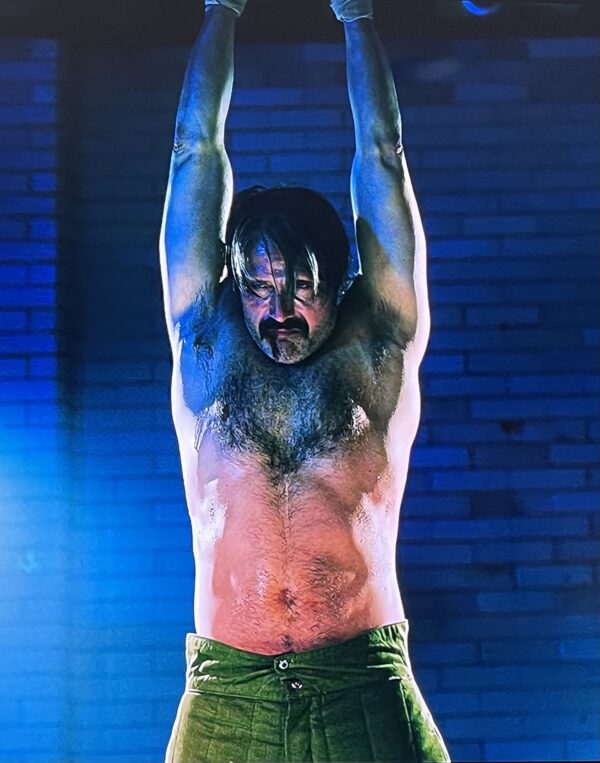 Bonus points for gratuitous prostate exam. 100 demerits for shooting a Frenchie.
3. VALHALLA RISING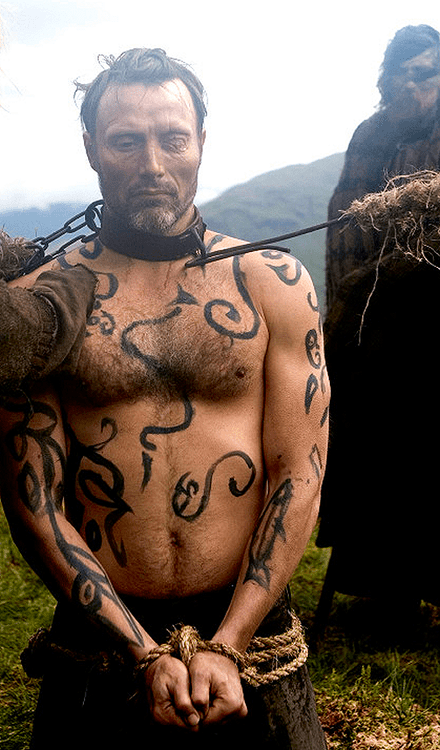 Must love collars.
4. DOCTOR STRANGE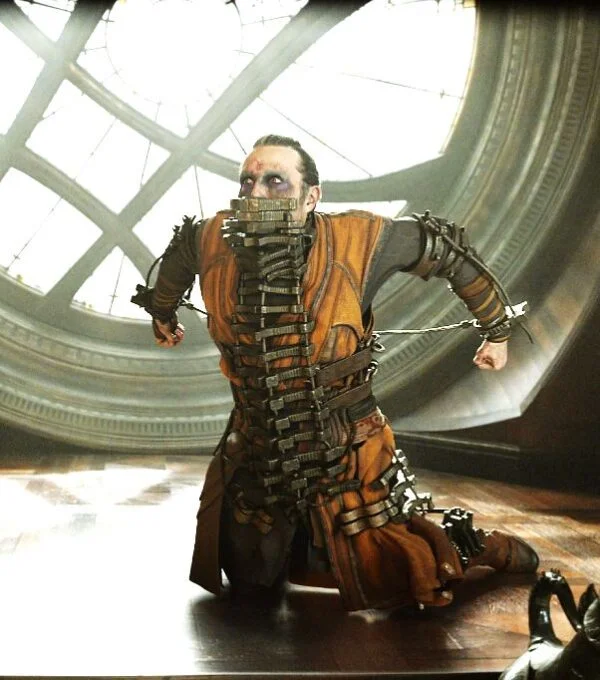 Some superhero shit, I dunno.
5. BITCH BETTER HAVE MY MONEY by Rihanna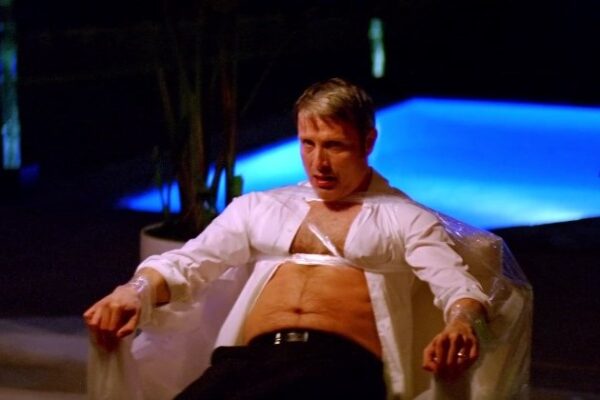 His wife gets to have all the fun, and the good bondage. He just gets this quick packing tape action.
6. MEN AND CHICKEN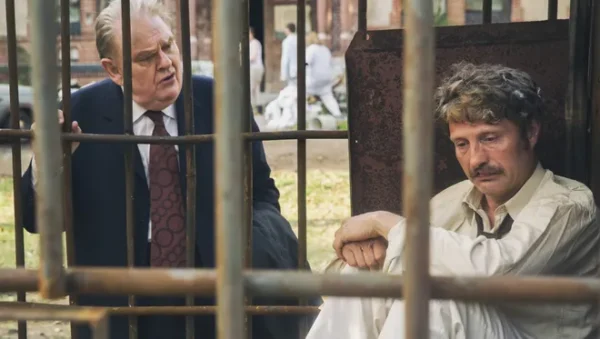 A cage doesn't really count. Let's never speak of this again.
7. THE SALVATION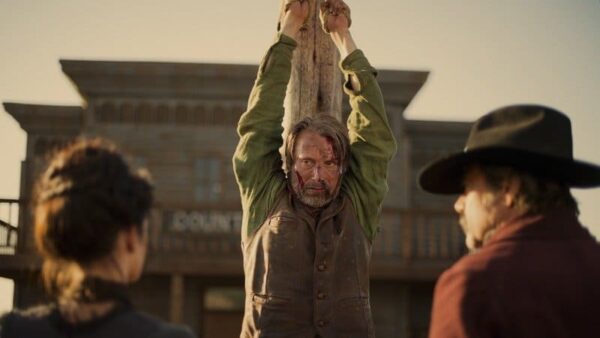 See also: splinters.
8. AGE OF UPRISING: THE LEGEND OF MICHAEL KOHLHAAS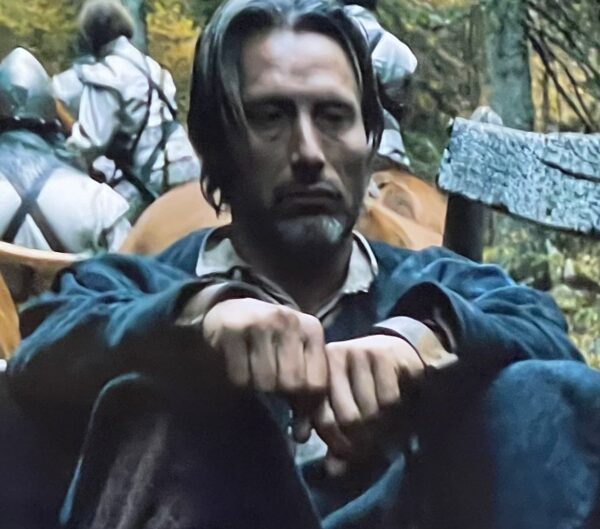 We don't see much of these cuffs but there's also a scene where he's naked in front of the Queen and all her guards. Probably tied up during his beheading but not shown. Acting-shmacting, what about my needs?
9. EXIT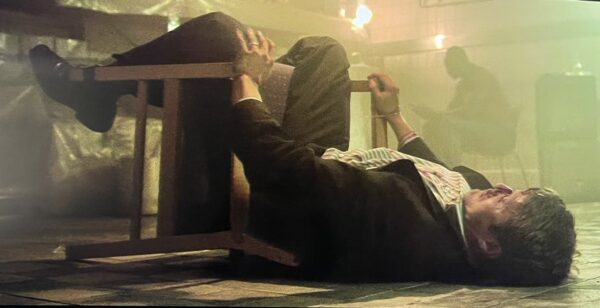 Don't sleep on this one, perverts. He's in cuffs for pretty much the whole flick. Plus, bonus struggle scene!!!
10. REJSEHOLDET Season 3 Ep 24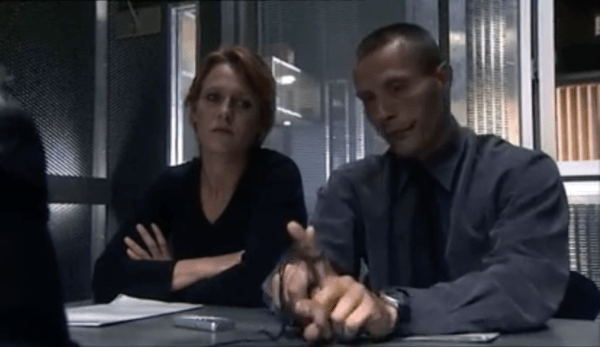 This was a whole ass journey. 32 hours of low res Danish cop drama with Russian subtitles, but it paid off with this amazing episode. At first I was so desperate for crumbs that I was all happy and excited when a Dominatrix tied his index fingers together. Little did I know that he would wind up cuffed and chained in a tiny cage!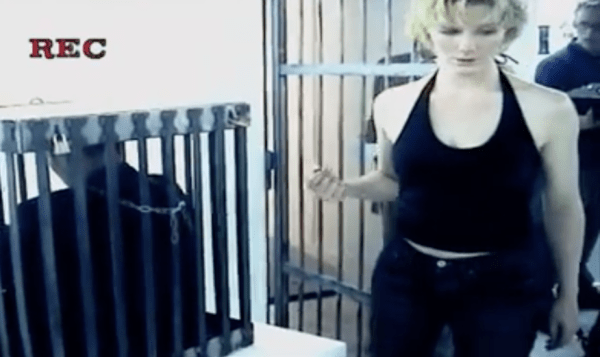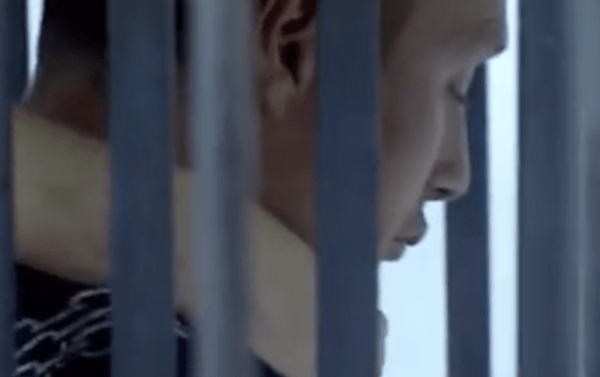 Moral of the story: Never give up on your dreams.
Also I fucking love this frame grab of chained up Mads looking directly into the camera during that scene. Am tempted to use this as my new profile pic.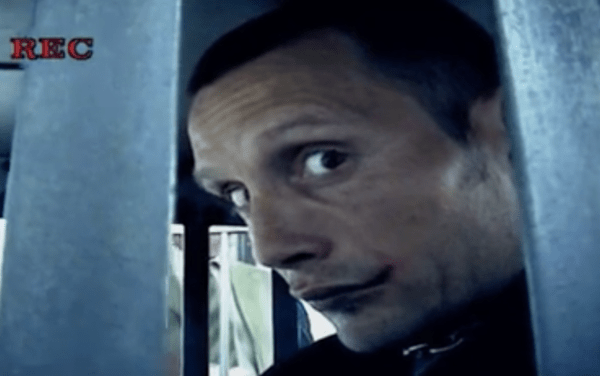 Update and possible #11: Mads doesn't get tied up, but he gets his wrist stepped on and trapped by a high heel in this furniture ad!!!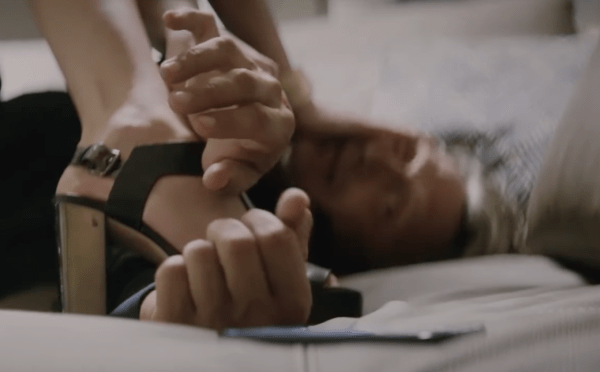 Update: Definite #11 or possibly #12 (depending on whether or not you accept the above.)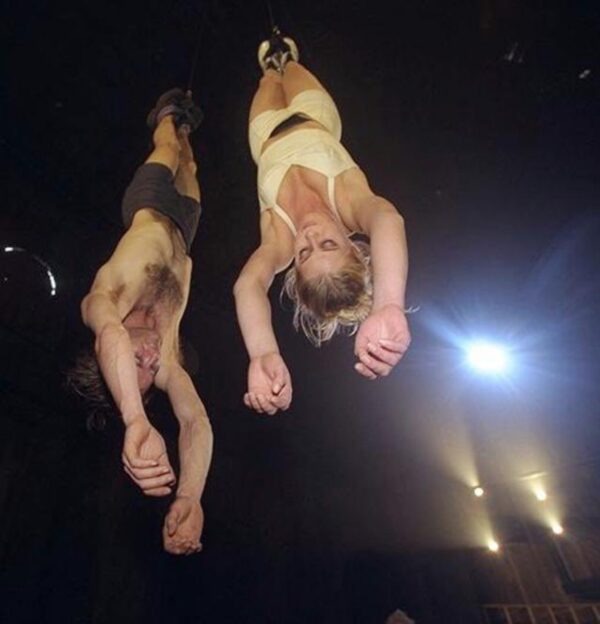 Feeling deeply disappointed in you internet perverts right now. Why didn't you tell me about this Mads Mikkelsen and Trine Dyrholm production of Romeo and Juliet from 1998?!? You're fired.
Also feeling funny in my pants.
Update: A definite Dirty Dozen! #12 (or possibly 13)
This straightjacket shoot from VS magazine.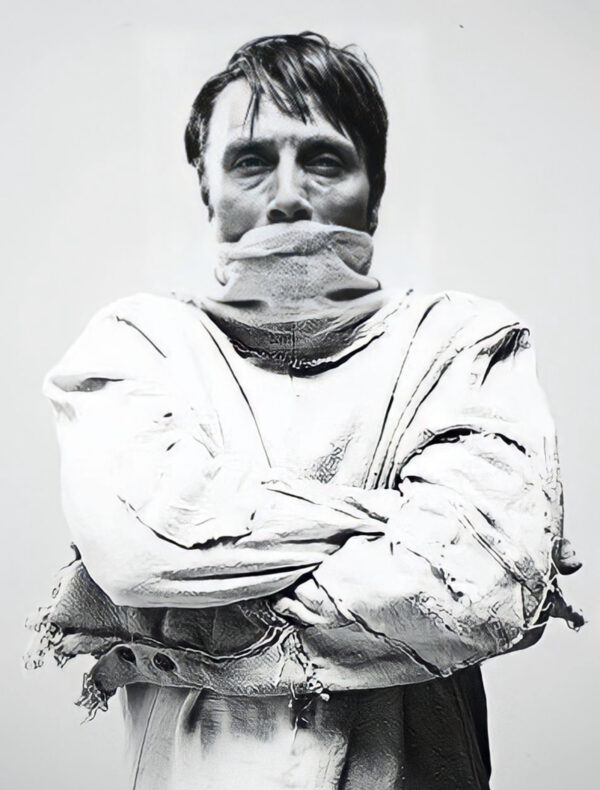 Update: Obtain Honor or Die Trying Mads gets tied up in Danish historical epic THE BASTARD, set to be released in fall of 2023. I'm calling this #14.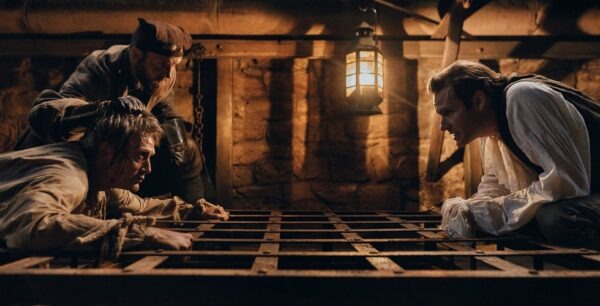 Now, for the completists, here's all the nos:
Update: There's been some spirited and amusing debate on the Bird Site over whether or not this is his real hair, but either way Fabio Mads doesn't get tied up in POKERFJAES.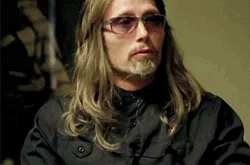 Update: Magical Fascist Ex-Boyfriend Mads doesn't get tied up in FANTASTIC BEASTS: THE SECRETS OF DUMBLEDORE. No, crowd surfing doesn't count. You're welcome.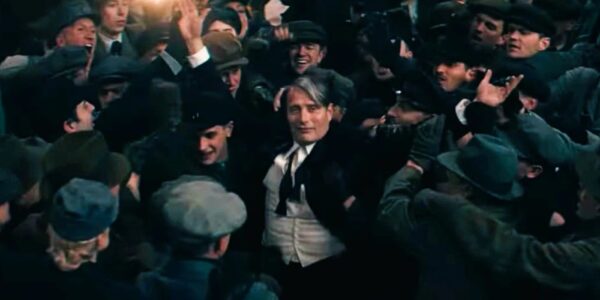 (PS – Some people on the Twitz have claimed that he actually *does* get tied up in this film. Was it a blink-and-you'll-miss-it thing? Because I have to admit my attention did occasionally wander during this fucking slog, but I didn't see anything. Please correct me if I'm wrong!)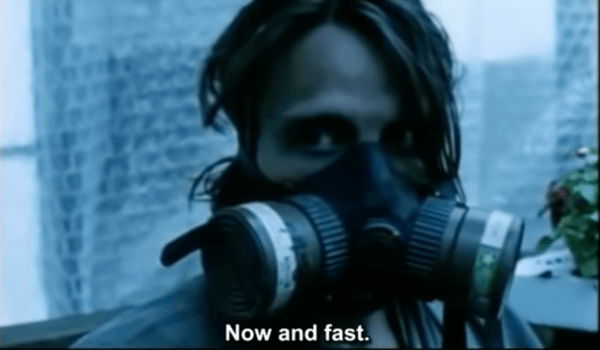 Not bondage but kinda kink adjacent, Baby Mads in a gas mask in BLOMSTERFANGEN.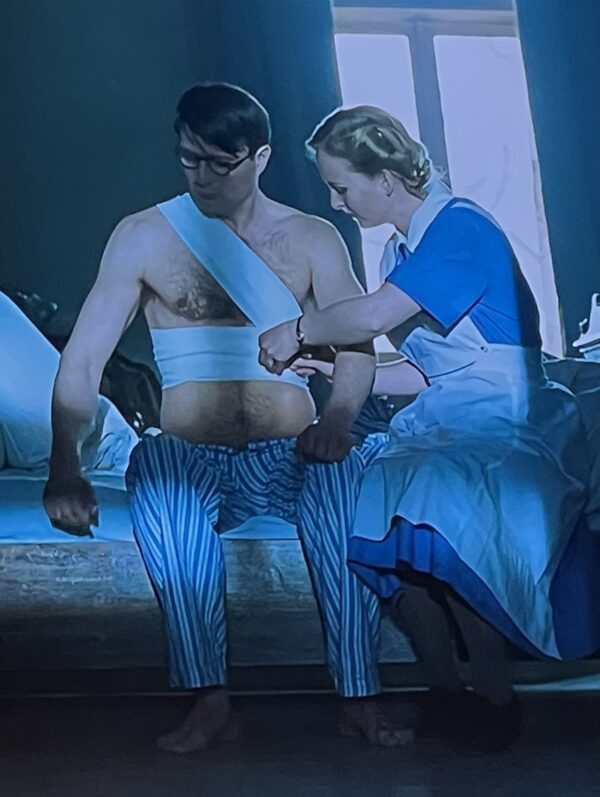 Nazi-punching Mads doesn't get tied up in FLAME AND CITRON. No, bandages do not count.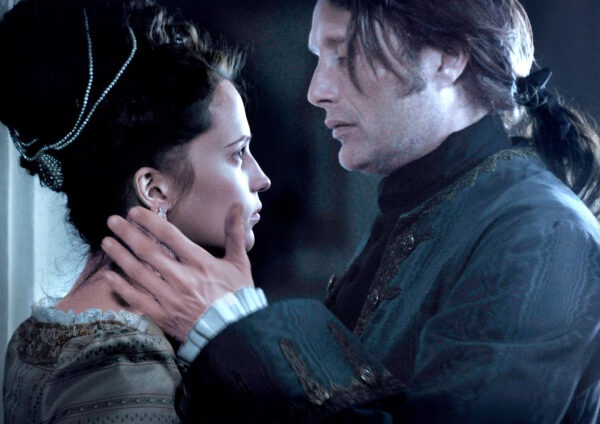 Ponytail Mads doesn't get tied up in A ROYAL AFFAIR, which I was hoping would at least have some leg-irons or something.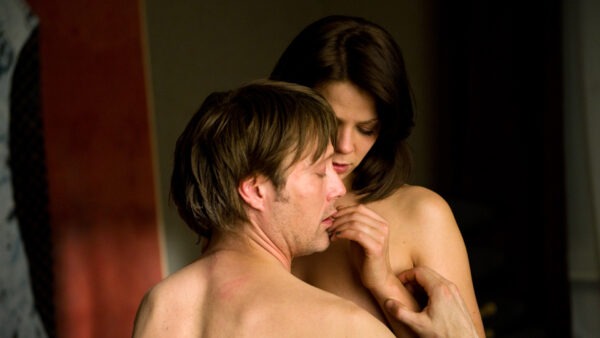 Horny Time Travel Mads doesn't get tied up in THE DOOR. Plenty of vanilla fucking if that's your thing, but no bondage.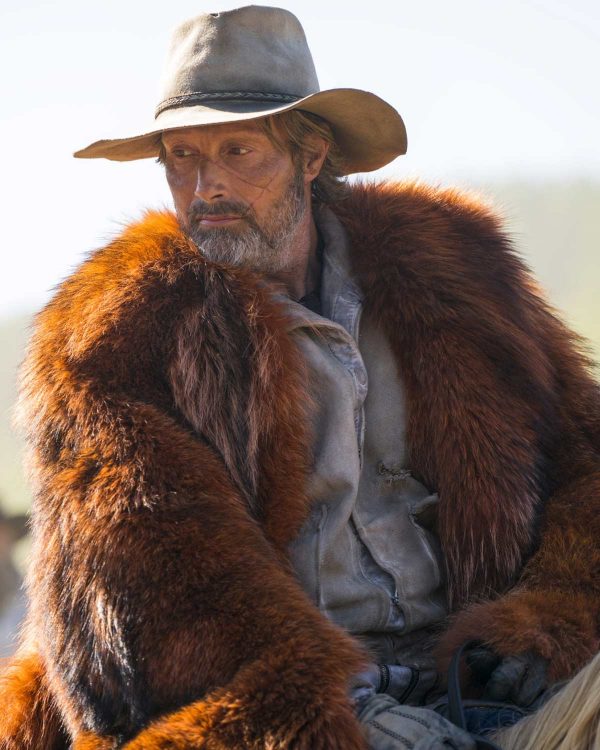 Post Apocalypse Pimp Mads doesn't get tied up in CHAOS WALKING. You're welcome.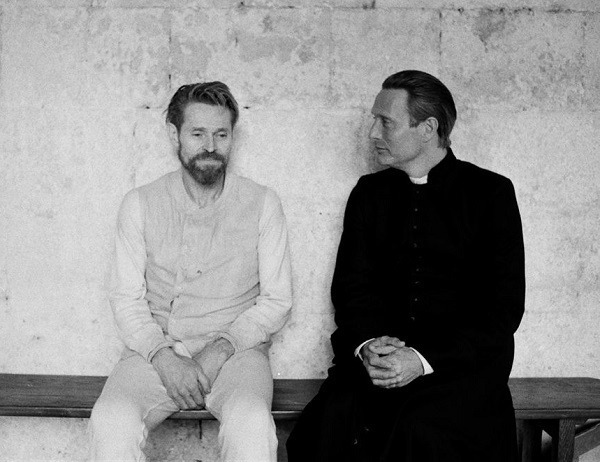 Father Mads doesn't get tied up in AT ETERNITY'S GATE. No, celibacy doesn't count. Weirdly, he also doesn't make out with Willem Dafoe.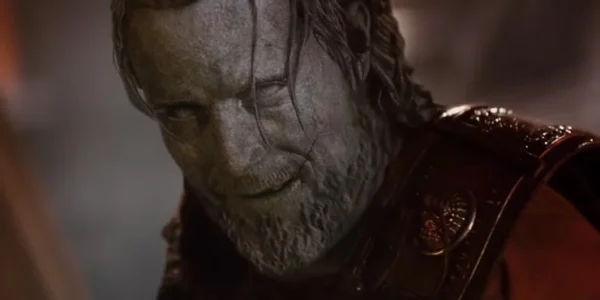 After much Twitter discussion, I'm still not sure if being turned into stone by Medusa in the CLASH OF THE TITANS remake counts as bondage or not. Unless he's awake and aware under there, I'm voting no.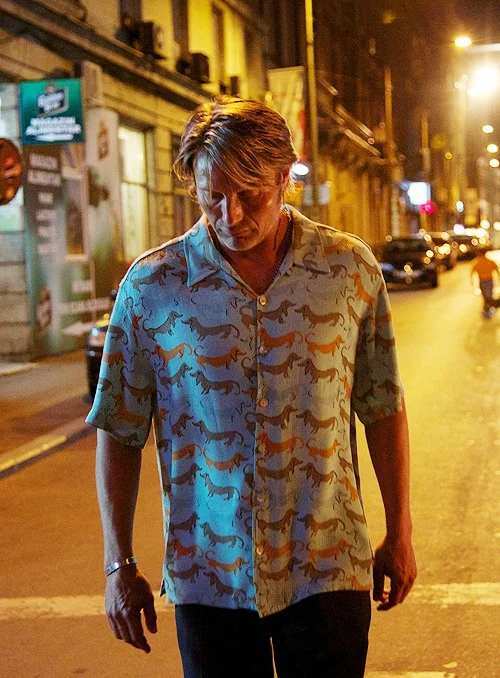 I had high hopes for CHARLIE COUNTRYMAN based on the poster but they tied up the wrong guy. Consolation prize: Bad Ex Mads in this wiener dog shirt. Also totally gratuitous elbow drop for no reason….?
Bisexual Mads does not get tied up in SHAKE IT ALL ABOUT.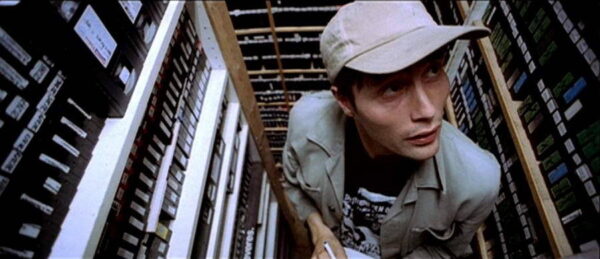 Geeky Video Store Clerk Mads does not get tied up in BLEEDER.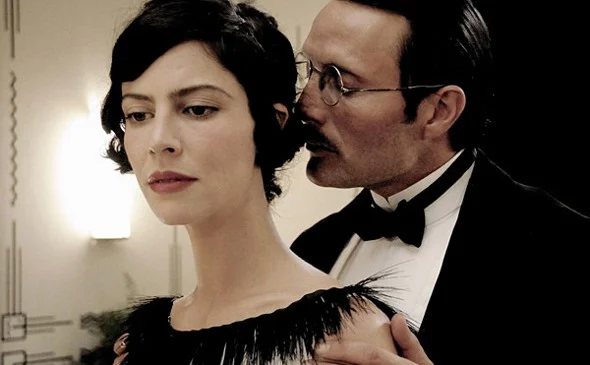 Sugar Baby Composer Mads does not get tied up in COCO CHANEL & IGOR STRAVINSKY.
Edited to add: On rewatch, I'm realizing there's actually a pretty intense Femdom power dynamic going on here. She is so clearly dominating and owning him in every way, including the unique and bizarre female cuckolding action involving her keeping his wife and kids in a house that she owns while she openly fucks him. This may be one instance where he is not tied with visible rope, but his character is very much in sexual bondage. She has him wrapped around her chic little finger.
Exquisite Corpse Mads does not get tied up in MOVE ON.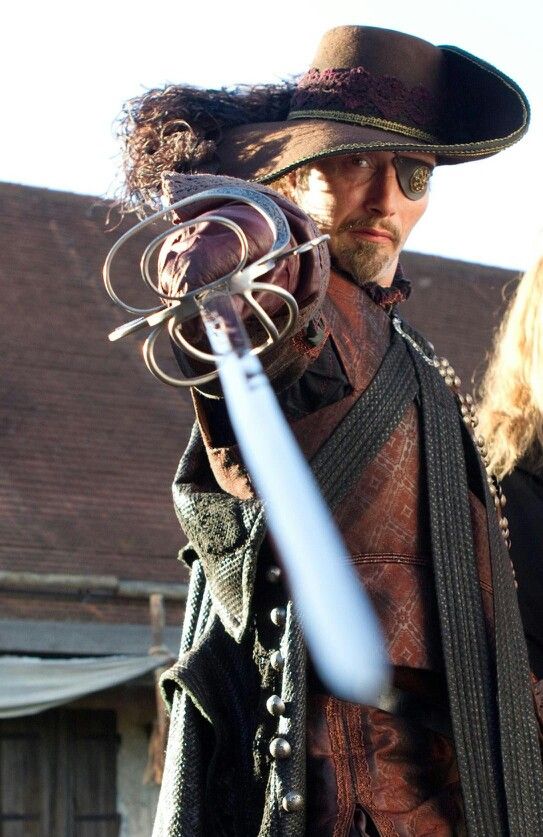 Swashbuckling Eyepatch Mads does not get tied up in THE THREE MUSKETEERS. (Side note, he does play a lot of characters with eye issues.)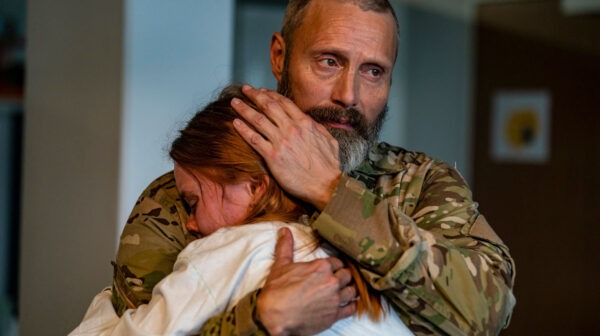 Military Daddy Who Doesn't Want To Talk About It Mads doesn't get tied up in RIDERS OF JUSTICE but others do and anyway it's actually pretty good if you care about that kind of thing.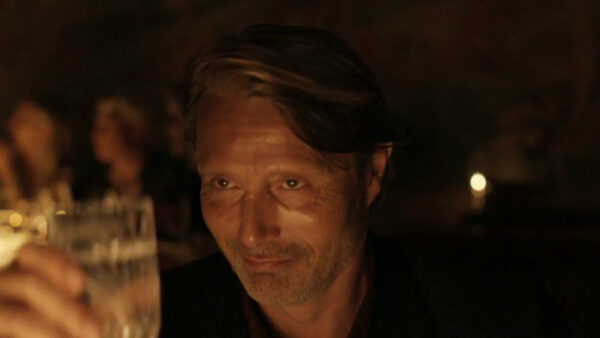 ANOTHER ROUND is also pretty good, even though Drunk History Mads doesn't get tied up.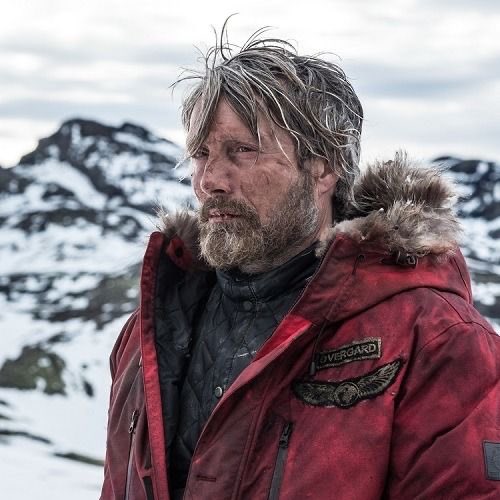 I like a pony/rickshaw scene as much as the next pervert, but does harnessing yourself to a sled like a husky count as bondage? Rugged AF Mads is superb in ARCTIC, but I'm afraid I can't include it on the list.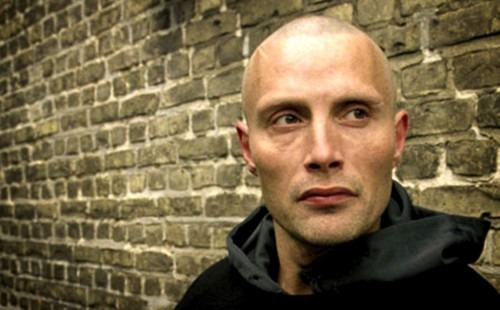 Erectile Dysfunction Mads doesn't get tied up in the PUSHER trilogy.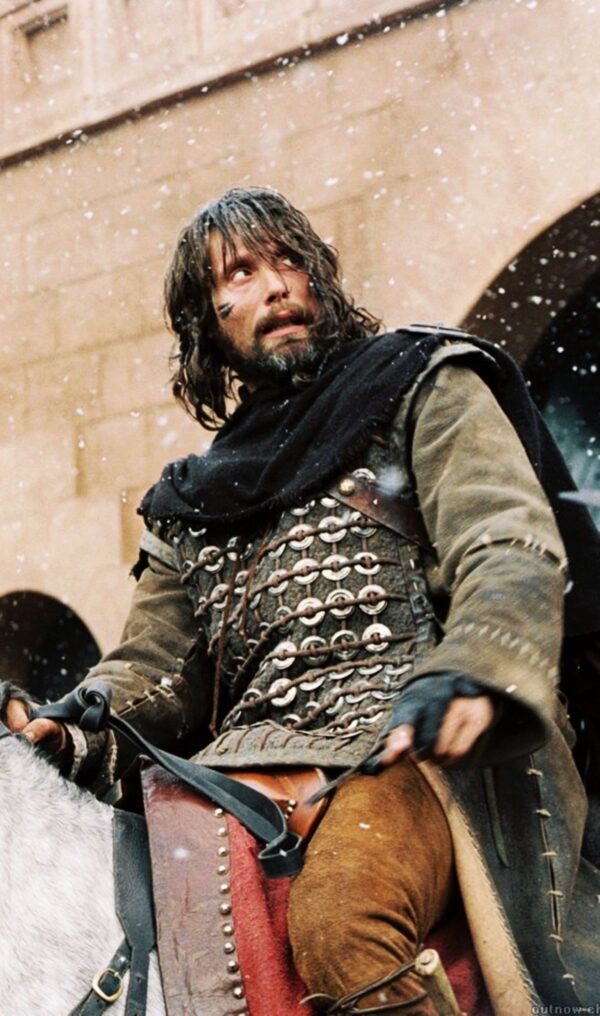 Sir Mads does not get tied up in KING ARTHUR.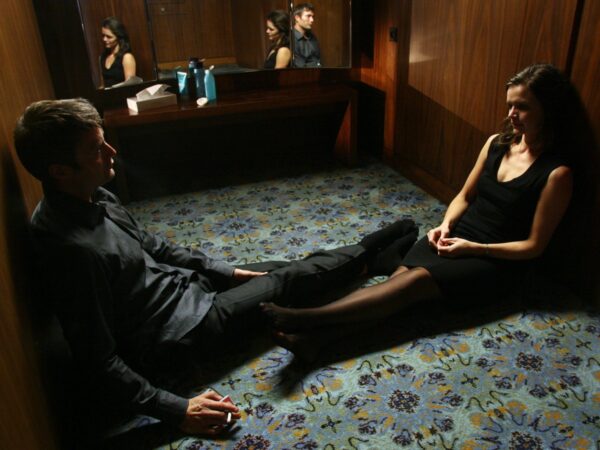 Estranged and Emotionally Conflicted Mads does not get tied up in PRAGUE.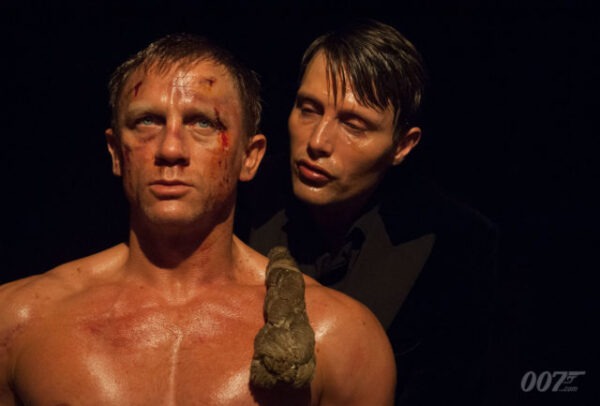 Fan favorite CBT Mads flips the script in CASINO ROYALE, but he does not get tied up.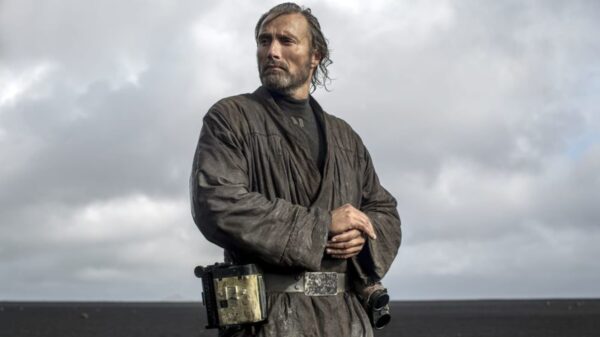 Space Opera Mads does not get tied up in ROGUE ONE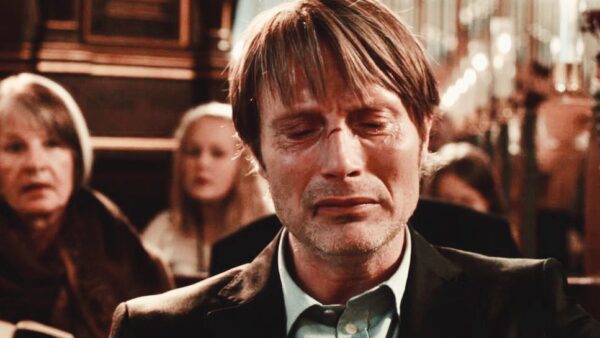 Not A Pedophile Mads gets arrested but not cuffed in THE HUNT. It's also the 2nd least sexy film in which he has a nude/sex scene (PUSHER II is number 1) plus his dog gets killed so yeah, hard no on this one.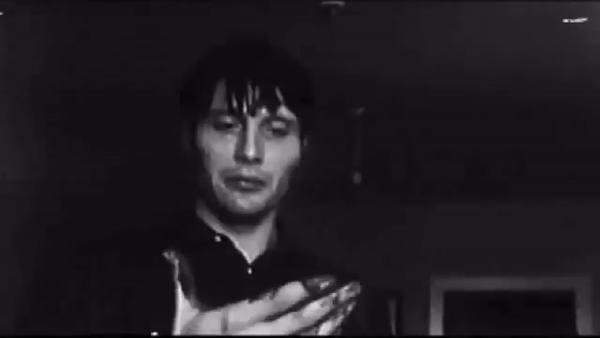 Quickfire list of disappointingly bondage-free shorts: Mads doesn't get tied up in CAFE HECTOR, THE BOY BELOW, TOM MERRITT or NOW. He is serving Noir era Jack Palance in THE CARETAKER though.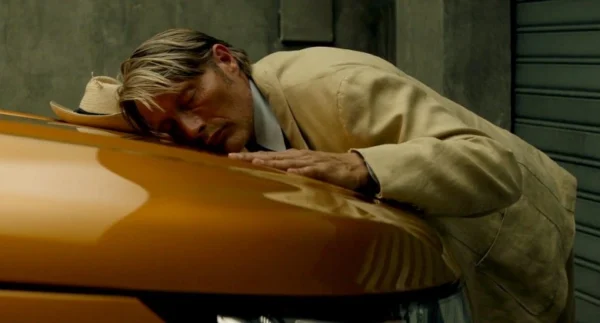 Work That Pussy Like The Rent Is Due Mads doesn't get tied up in this car commercial.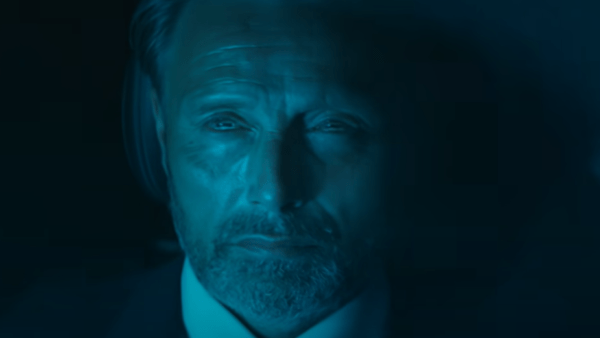 And Were-Goat Mads doesn't get tied up in whatever the fuck this is.
(Edited to add: There are a fuckload of commercials featuring Mads, most of which don't feature any bondage. I'm working my way through the ones I can find and won't bother to list them all specifically unless he gets tied up or something close enough to include in the list above – like this.)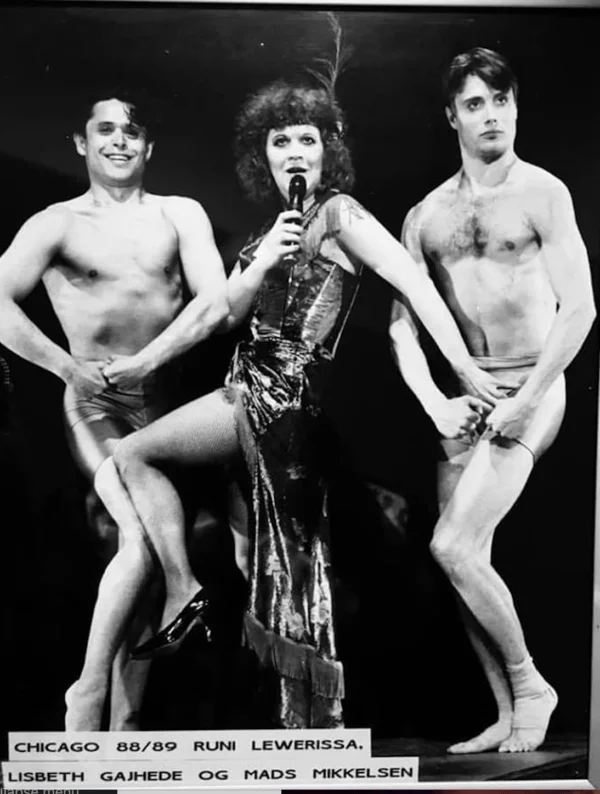 Edited again to add: A bunch of archival photos of Mads on stage have recently surfaced. Not only is he in drag (!) for a lot of them but also yellowface (!!!) but no evidence of any kind of bondage.
And again to add: I'm thrilled to be wrong. See #11/12 on the yes list above.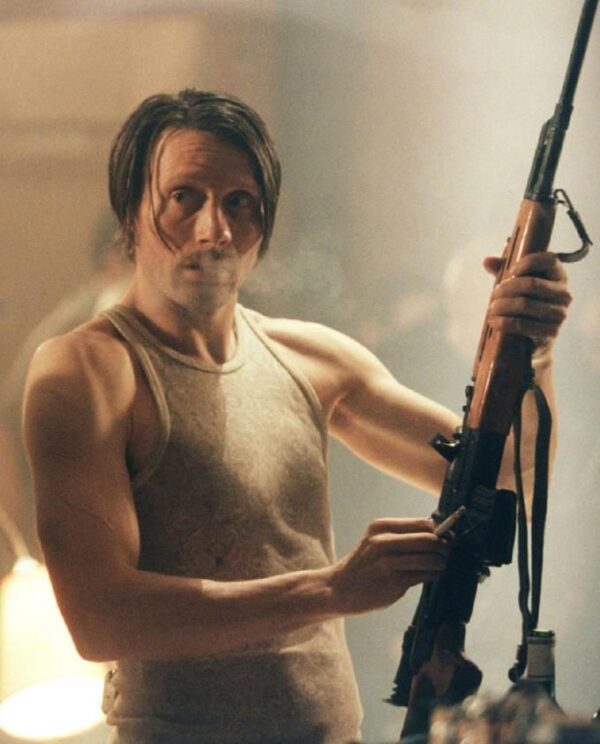 Getting into the deep cuts now, kids. Sweaty Undershirt Mads doesn't get tied up in FLICKERING LIGHTS.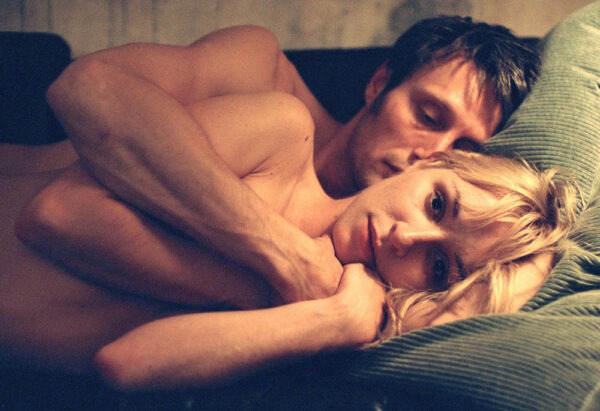 Doctor Feelgood Mads doesn't get tied up in OPEN HEARTS.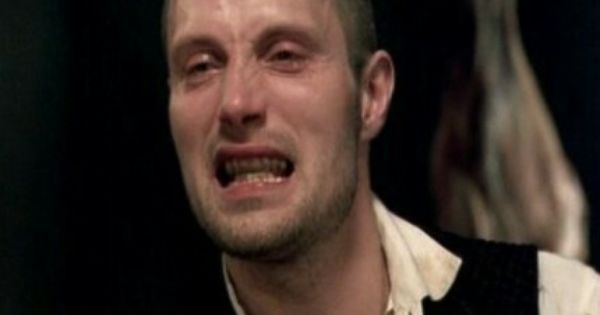 Meat-Punching Rapist Mads doesn't get tied up in I AM DINA.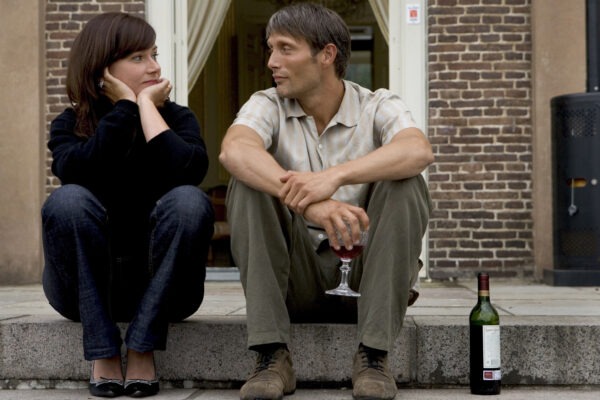 Wedding Crasher Mads doesn't get tied up in AFTER THE WEDDING.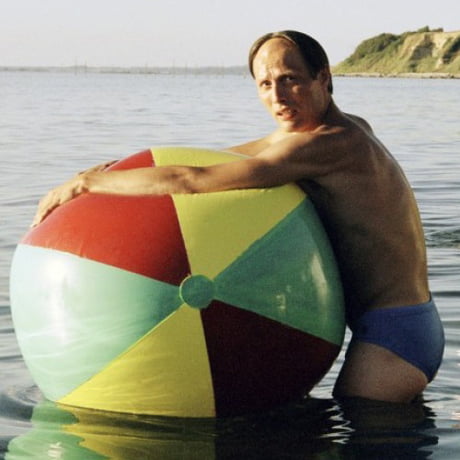 The Other Cannibal Mads doesn't get tied up in THE GREEN BUTCHERS. Bonus points for the Metaluna forehead and speedos combo.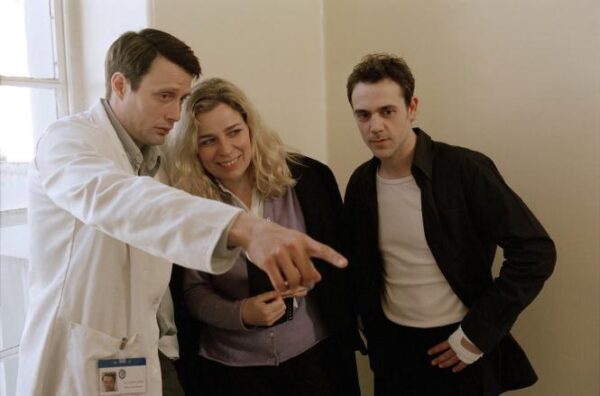 The Other Psychiatrist Mads doesn't get tied up in WILBUR WANTS TO KILL HIMSELF.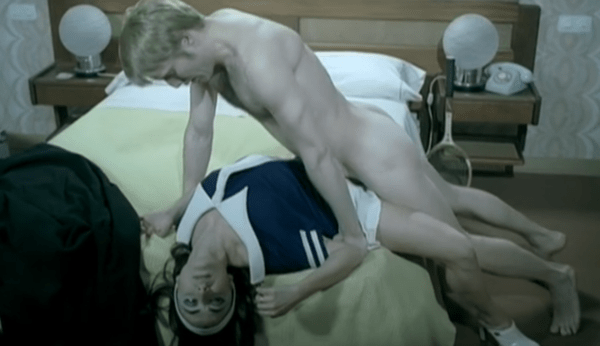 Sad to report Porn Star Mads does not get tied up in TORREMOLINOS 73.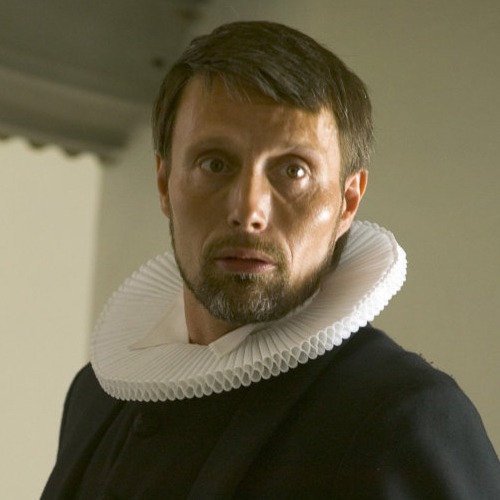 Saintly Brain Tumor Mads gets shot in the face but he doesn't get tied up in ADAM'S APPLES.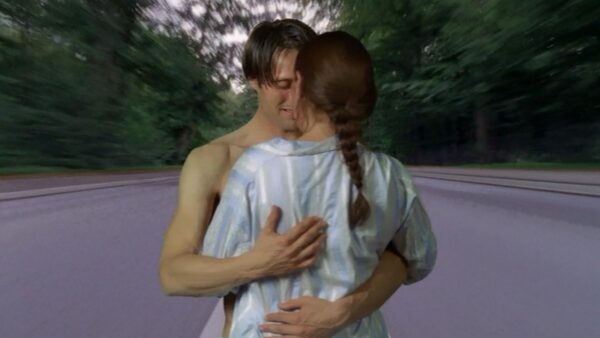 Probably Not Real Mads doesn't get tied up in MONAS VERDEN.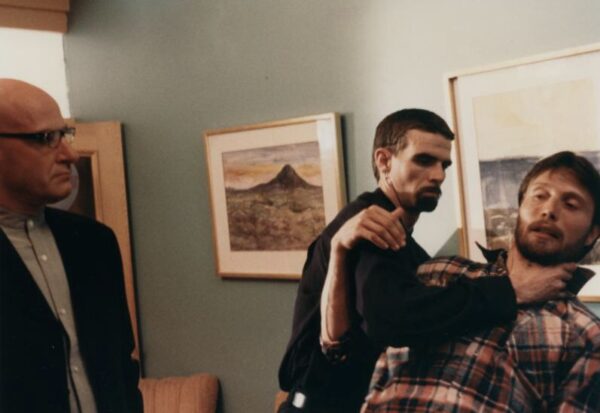 Icelandic Lumberjack Mads gets choked, but does not get tied up in WILDSIDE.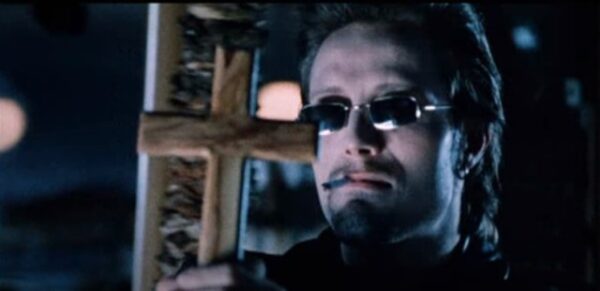 Last but not least, this cheesetastic flick. Vampire Hunter Mads dives sideways with two guns but he doesn't get tied up in ANGEL OF THE NIGHT.
Now, the maybes. I've only seen fragments of these few remaining bits and bobs. Probably obvious nos, but I couldn't swear to that in a court of law. If you have watched any of these all the way through and they actually DO feature some kind of bondage, please feel free to correct me in the comments.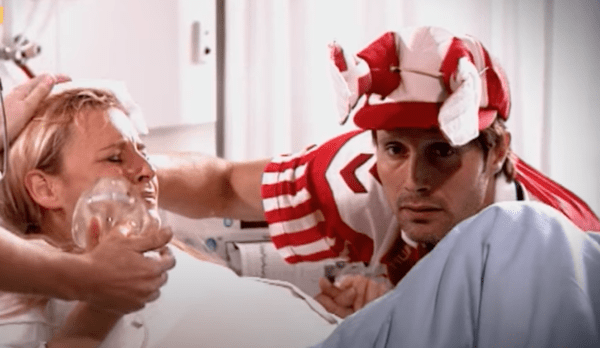 I have no fucking idea what to say about JULIE, other than the fact that Really Into Football Mads isn't tied up in the episodes that are available online. I'm gonna go out on a limb here and and say probably not ever on this show, but feel free to prove me wrong.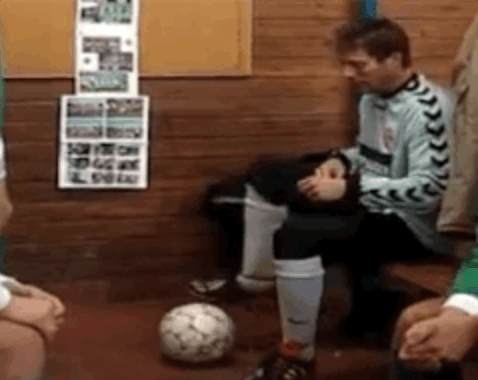 Ball Kicking Mads doesn't seem to get tied up in this episode of KLOVN.
Thanks for sticking with me on this deep dive down the Madshole. And it ain't over yet, because he's in the upcoming INDIANA JONES 5, a notoriously bondage-heavy franchise. Will update accordingly so stay tuned…