Stalker double feature! First up, PITFALL.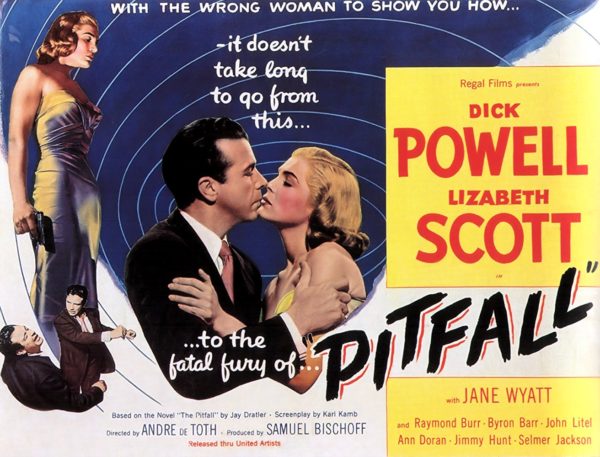 Uptight insurance executive John Forbes (Dick Powell) finds himself chaffing under the bland suburban sameness of married life. The cure, of course, is a beautiful young model named Mona (my gal Lizabeth) who's got his number. Also, a speedboat. There's just one problem. And it's a BIG problem. By that I mean Raymond Burr.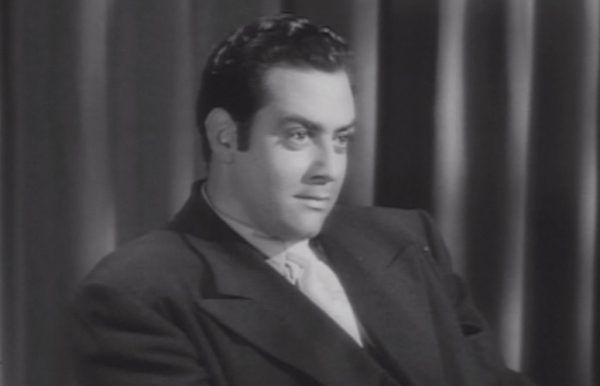 Burr plays Mac, a sleazy private dick, hired by Forbes to track down gifts bought for Mona by her embezzling boyfriend. And Mac believes in finders keepers. He's decided Mona is his and won't take no for an answer. Particularly not from her.
The noose tightens for our everyman protagonist as Mac starts threatening to expose the affair to his wife. Then Mac takes it a step further by winding up Mona's freshly paroled boyfriend, giving him a gun and goading him into using it. Meanwhile, Forbes tries to come clean to his wife, but just ends up digging himself deeper into his own lies. In the end, it's Mona who is forced to woman up and take matters into her own hands.
I love this flick. It's a classic noir tale of an ordinary Joe who makes one small mistake that winds up blowing up his whole world. I love Lizabeth, and Powell gives a memorable, sympathetic and surprisingly subtle performance, but Burr steals the show in this one. The scene where Mac harasses Mona at the department store where she works, forcing her to model sexy dresses for him or risk being fired, is particularly powerful and creepy, especially in these post #MeToo times.
I would have liked a darker ending, though an argument could be made that there's no way Forbes and his wife will live happily ever after, given everything they've been through, but really that's just nit-picking. I'm not sure I agree with host Eddie Muller's claim that this is one of the best films of the 1940s in any genre, but it's definitely great and if you haven't seen it, you should.
We had some sound issues with this screening, and there was worry that it might be the projector rather than the print. Luckily (or unfortunately, depending on your viewpoint) we were able to see and hear the second film JEALOUSY without any problems.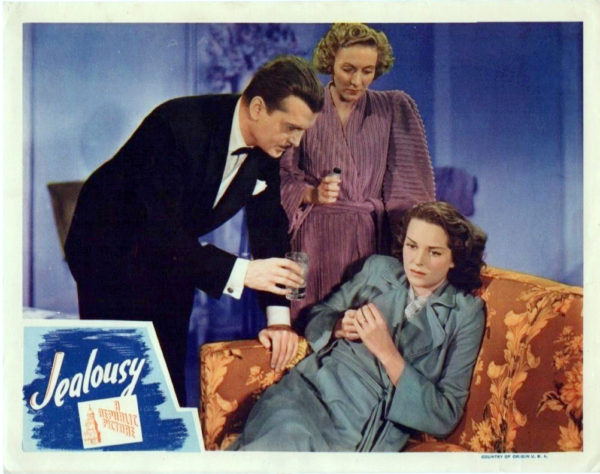 A scrappy female cabbie falls for a handsome fare, but she's unhappily married to (and financially supporting) a suicidal European writer. The fare, a classical-music-loving British doctor also has a complicated pre-existing relationship, only his is an ostensibly platonic friendship with a female doctor with whom he shares a practice. You can tell by the title where this is going. The only question is, whose jealousy is going to end in murder first.
Look, this isn't a good movie. I can't recommend it, but I'm really glad I saw it. It's like some kind of weird David Lynch fever dream directed by Ed Wood Jr, but it does have some genuinely interesting elements. I liked how female-centric the story is, which is hardly surprising coming from the guy who directed Hedy LaMarr in the world's first on-screen female orgasm. (ECSTASY, 1933)  The use of dizzy, drunken angles and rough handheld camerawork gave a surreal edge to the familiar streets of 40's Los Angeles. Hugo Hass was great as the bi-polar writer's only friend and lens through which to highlight the horrors of WWII and their effect on the refugee artists who wound up adrift in Hollywood.
Seeing bizzaro rarities like this is one of my favorite things about attending the Noir City film festival every year. The A/B format is such a genius concept on the part of the organizers, because it allows them to play the hits that will lure in a newer, younger audience while still giving the hardcore aficionados like me something to talk about over pie.
Tonight, they're pulling out all the stops with a Joseph Losey triple feature, THE PROWLER, M, and THE BIG NIGHT.