It's that time of year again, Faustketeers. Time for another visit to Noir City. And this year, we're going global! I know there's been a lot of pushback against the inclusion of foreign flicks, complete with the dreaded subtitles, but I couldn't be more jazzed for this line up. Let's dive right in, shall we?
Up first, THE BEAST MUST DIE.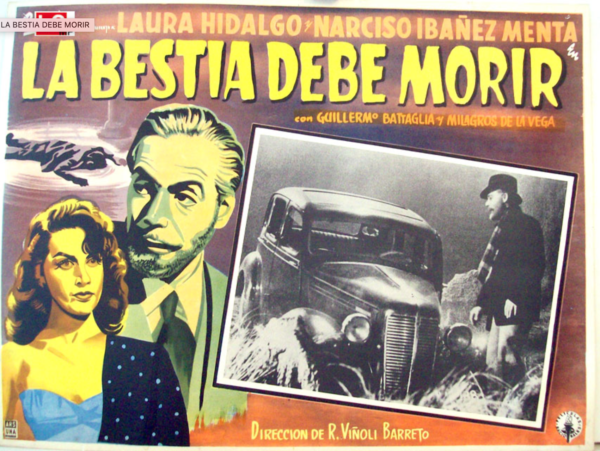 Based on a novel by Nicholas Blake (aka Cecil Day-Lewis, father of Daniel) the story follows a grief-stricken crime writer obsessed with finding the driver who killed his son in a late night hit and run. Only in this Argentine version, we start with the death of the beast in question and then work backwards via flashback.
The film opens with a juicy, melodramatic scene in which a family dinner devolves into a screaming match between a rich, vulgar and hateful man unsubtly named Jorge Rattery and his sexy sister in law Linda. Everyone at the table, with the exception of his equally hateful mother, seems to have good reasons to want him dead. Then, when the poison mixed into his nerve tonic takes effect, Linda runs to call her writer boyfriend Felix instead of the cops.
Felix is revealed to have kept a diary in which he was explicitly plotting to kill Rattery, and it seems like game over. Far from it. It's just getting started.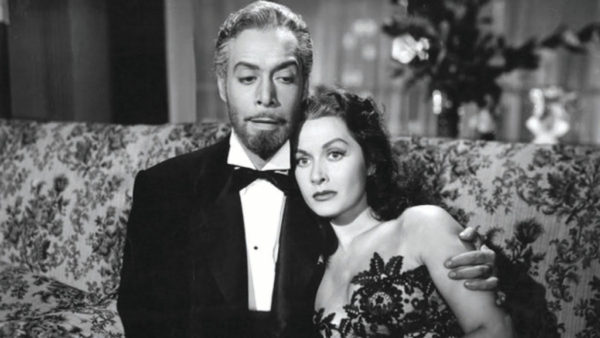 There seems to be a dearth of stills from this film, which is a shame because both the costumes and the leading lady whose curves they struggle to contain are truly amazing. I'm still thinking about the sculptural white mesh hat that she wears on her first date with Felix and her astounding, zebra striped swim cover up.
One slight downside, for me anyway, is I really hate kid actors and this flick has two, both of whom are central to the plot. Also, if you are someone who can't stand to see harm come to a child, you might want to skip this one, as the hit and run death of the writer's son is surprisingly brutal and intense for the time.
Kid issues not withstanding, this was a fun, twisty little murder mystery.
Between features was the big gala opening night reception, complete with cocktails and swanky fashion galore. It's always so great to see everyone and catch up with all my fellow Noiristas. The boys from Golden Age were there with cool new Black Dahlia shirts, but sadly no shoes for me to drool over. All in all a great kick off to another great year.
The second flick in the opening night line up was the legendary and unforgettable GILDA.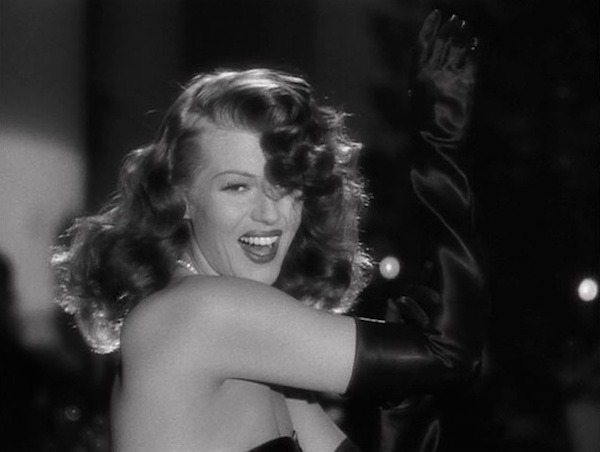 This is hands down one of the sexiest movies ever made. Who would have thought the tungsten racket could be so hot? If you haven't seen it yet, what the fuck are you waiting for?
I had to skip out early last night, but luckily I've seen this one about a hundred times and will probably watch it a hundred more. There's tons of smart and insightful writing out there about Gilda, so I'll just leave you with this quote:
"Every man I knew went to bed with Gilda… and woke up with me." – Rita Hayworth.
Tonight it's an M-stravaganza! Three, count em THREE versions of the child killer classic M, including the ultra rare and fucking spectacular Argentine version THE BLACK VAMPIRE.